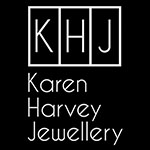 Sterling Silver Bangles with 18ct Gold Spinning Bands
PRICED ON APPLLICATION DUE TO CHANGING GOLD PRICE
These beautiful lightly textured sterling silver bangles has four 18ct gold spinning bands. The sterling silver bangle has gentle waves and curves in which the gold bands sit. When the bangle moves it makes a very sweet and gentle tinkling sound.
Want to know more about sterling silver? Particularly 925 sterling silver then read about it HERE.
Want to see all my amazing jewellery? Click HERE.