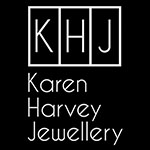 Sterling Silver Bangles – Spinning Bands
Anticlastic: of a surface. Having opposite curvatures at a given point; curved convexly along a longitudinal plane section and concavely along the perpendicular section opposed to synclastic.
Karen's sterling silver bangles and cuffs are made using traditional silversmithing techniques – much hammering and annealing to compress and stretch the metal making two sides curl under and two sides curve upwards, creating anticlastic forms which sit very comfortably on the wrist of the wearer.
Karen has added three fine internal bangles that sit within the main body of the anticlastic bangle.  These internal bangles move freely creating a sweet tinkling sound when moved.  All sterling silver, textured and oxidized.
(see sizing guides for further information).
Want to know more about sterling silver? Particularly 925 sterling silver then read about it HERE.