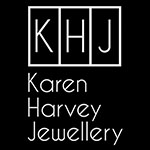 Sterling Silver Cuff – Vascular Lace
Inspired by my botanical studies, this sterling silver cuff is etched with microscopic images of plant cells.  When I was studying botany I always thought how 'lace-like' these little cells appeared to be.  The centre of this anti-clastic cuff is etched, saw-pierced and oxidized while the two sides of the cuff are solid sterling silver.  See my other 'Vascular Lace' pieces in Rings, Earrings and Necklaces.
Want to know more about sterling silver? Particularly 925 sterling silver then read about it HERE.