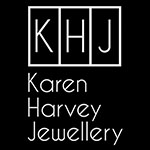 Sterling Silver Spinner Rings – Brushed or Polished
Sterling Silver Spinner rings, sometimes called 'worry rings' or 'meditation rings' are not just a great looking fashion accessory.  Spinner rings have evolved from ancient Tibetan meditation traditions. Spinner rings have an inner band and outer bands, the outer bands spin freely around the inner band.
Spinning the outer bands is believed to have a calming effect on the mind and body of the wearer.  Great for those who fidget!
These beautiful and incredibly comfortable sterling silver spinner rings are .67″ or 17mm wide and available either brushed or polished. The three 'spinners' sit comfortably on the main ring with the centre spinner being textured and oxidised.  The main band is gently curved at either end to contain the spinning rings.  One of my favourites.
Karen has made several versions of the spinner ring – check out the others in the ring section including the Personalized and Namaste varieties.
Enter your ring size in "Order Notes:" at the "Shipping Address"section at the checkout page.
If you are unsure of your ring size, use the Ring Sizing Guide HERE.
If you require further information email Karen HERE.
Want to know more about sterling silver? Particularly 925 sterling silver then read about it HERE.
Want to see all my amazing jewellery? Click HERE.