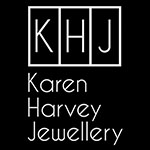 'Fingerprints' Sterling Silver Ring – Custom Made and Designed
These rings have the utmost personalisation by way by using the finger prints of three precious children as a texture embedded in the top of a hollow form ring. These ones were special gifts for the mum and grandma of the children. Various designs can be worked using your fingerprints of choice. It's easy – just contact me here. for fingerprinting instructions and I do the rest.
Rings can be designed for one or more special fingerprints. I will design and style a ring of your choice. Price may vary.
You can access the Sizing Guide here.
NOTE: Please enter your ring size in the "Order Notes" section on the Checkout page.