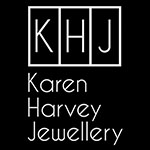 Sterling Silver Necklace – Wallpaper Pattern – Triple Disc
The etching patterns of the 'Wallpaper' range were inspired by the works of the British designer and craftsman, William Morris.
This stunning 12 strand (shown here with 5) sterling silver necklace carries three dome shaped drops, two of which are etched with my Australian 'Wallpaper' pattern of native birds and flowers, along with one plain highly polished dome. The neckband is flexible, which means it comfortably sits around your neck with the domes dropping from the collar bone. Looks great with an open neck shirt or wide or scooped neck t-shirt. Matching etched earrings or plain domed earrings finish off the look. There are also several ring styles available in this etch pattern.
Want to know more about sterling silver? Particularly 925 sterling silver then read about it HERE.
Want to see all my amazing jewellery? Click HERE.