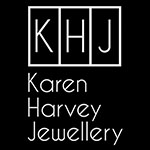 'Limited Edition' Sterling Silver Bangle with 18ct Gold Spinning Bands
ONLY 10 TO BE CREATED WORLDWIDE!
This beautiful lightly textured sterling silver bangle has four 18ct gold spinning bands. The sterling silver bangle has gentle waves and curves in which the gold bands sit. When the bangle moves it makes a very sweet and gentle tinkling sound.
This bracelet is available as part of a limited edition release – there are only 10 available. Each bracelet comes with a special edition hallmark and serial number.