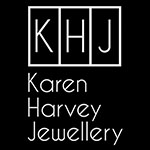 Sterling Silver and Copper Rings – Blue Moon
The term 'once in a Blue Moon' is a popular statement to indicate that something is quite rare. In astronomy, a Blue Moon is a Full Moon, which occurs when there is a second full moon in one calendar month and is uncommon because the full moon cycle is 29.5 days – this happens every two to three years. The 'Blue Moon' is not necessarily blue in color, but a range of glowing yellows, reds, coppers.
The most recent blue moon was the inspiration for this ring. These Sterling Silver and Copper rings are  made with a with copper dome of the 'moon'.  The ring encased in sterling silver (no nasty stains on your fingers) and sits on a 6mm wide sterling silver band.
Enter your ring size in "Order Notes:" at the "Shipping Address"section at the checkout page.
If you are unsure of your ring size, use the Ring Sizing Guide HERE.
If you require further information email Karen HERE.
Want to know more about sterling silver? Particularly 925 sterling silver then read about it HERE.
Want to see all my amazing jewellery? Click HERE.