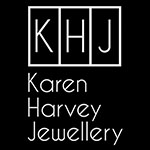 'Dichondra' Silver Falls Sterling Silver Neck Cuff – Only1 Left
The leaves on this pendant are cut from the leaves of Dichondra 'Silver Falls' – a great little trailing plant I use in my gardens.
In this pendant, the sterling silver leaves are textured and polished and hang gracefully from a neckcuff – the closure being the twisted, twining coiled stems.  The textured leaves are oxidize to give more relief.  This is a really versatile piece that can be worn as an elegant statement or dressed down with more casual effect.