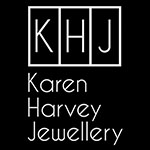 'Bike Tube' Concertina Earrings
These cute little danglers are made with bicycle inner tubes and re-milled sterling silver. They are really light and very eye catching!
They will dangle 2.5″ or 64mm from your earlobe and create much conversation! Bicycle tube is threaded over a straight sterling silver wire and the concertina shape is topped off with a lovely little sterling silver bead at each end. The length of the concertina can be changed to alter the look – close it up tightly and it sits at the bottom of the wire or pull it upwards towards the hook and you get a more see through effect. And it's all recycled, which has got to be good!